Getting to know each other
We know meeting someone for the first time can be intimidating, and going to a new church for the first time can be nerve-racking. We want to help make your first experience at Crown Family Church a great one!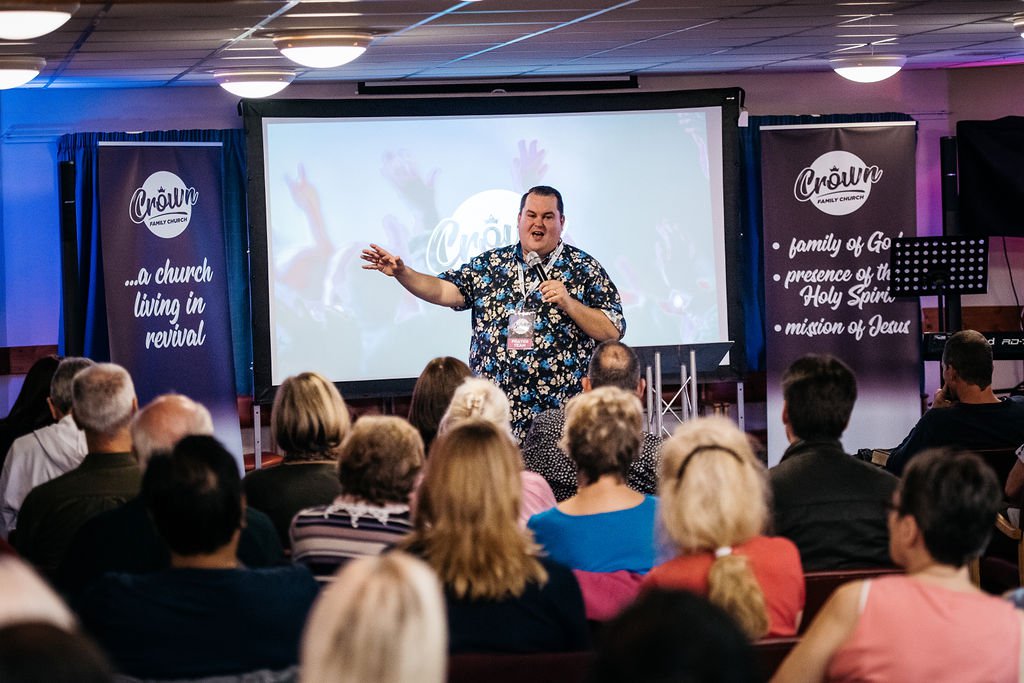 SERVICE TIMES
We meet every Sunday morning at 10:30am on Zoom and Facebook Live during pandemic, but usually at the Banstead Centre on the Horseshoe in Banstead Village. Once per month we join with other churches for an inter-denominational church service called The Gathering. On these Sundays we meet at the Bourne Hall at 7pm. This meeting is virual at the present time. Check out the events calendar to make sure you come to the right place.
LOCATION & DIRECTIONS
Our address is:
Crown Family Church,
The Banstead Centre,
The Horseshoe, Bolters Lane,
Banstead, Surrey,
SM7 2BQ
There is a public car park right next to the centre, charges apply. You can also park on the single yellow lines directly outside of the centre which are free on Sundays. For disabled visitors, we have limited parking directly behind the Banstead Centre.
Directions:
The Banstead Centre is located on The Horseshoe. This is directly opposite Zizi's Restaurant which sits on the roundabout B2217 at the top of Banstead Village. Turn into the Horseshoe and the centre is located 100 yards down on the right hand side after the public car park.

What can I expect?
How long is the CHURCH service & What FORMAT ARE THE MEETINGS?
During the pandemic our 90 minute service is on Zoom and Facebook Live starting at 10.30am on the Sunday morning.
In total, our services run for about 90 minutes in length. Services begin with tea, coffee and donuts which are served in the foyer when you arrive. People arrive early from 10:00pm to grab a coffee and pastries and to chat with friends.
The service starts on time with our band leading the church in sung worship - song lyrics are projected onto the overhead screen so you can sing along and/or engage with worship however you feel most comfortable. Some people like to reflect in quiet prayer, whereas others may raise their hands or clap. Children are encouraged to join with us as part of our family.
During the worship we receive an offering for the work of the church's ministry. All of our leaders and team members are volunteers. This means we don't have any paid staff so every penny given goes towards paying for our costs and our mission - helping our community! Visitors are under no obligation to give whatsoever, this is just something our members do as part of our worship.
After the music portion of service is complete, one of our pastors will share an encouraging and hope-filled message about Jesus. During this time we have a special programme of activity for children so that they can share in the joy of hearing God's word in a relevant way. Find out more about our kids and youth programmes here. There is always time for prayer ministry and response at the end of our service. We allow space for the Holy Spirit to move freely amongst us. This means our services can change in structure and our members often come ready with something to contribute.
What's the culture like at Crown Family Church?
Sundays at Crown Family Church are exciting, casual, and relaxed. Come as you are and expect to feel welcomed as our guests. Everything we do is about encountering Christ and sharing God's love with our community. We believe that just one touch in the presence of God can transform a person for the rest of their life!
What about my kids?
This has been suspended during pandemic.
We believe that kids should have a blast at church every single week - and at Crown Kids, we make this a priority. The other thing we make a priority is your children's safety. Because of that, we have a detailed check-in process for our Kids programme the first time that you visit. Look out for one of our Kids Team in the purple T-Shirts! You'll want to leave yourself an extra ten minutes to get signed in for the Crown Kids experience. Crown Kids is offered at every service for kids ages infant through 12 (except for at The Gathering meetings at the Epsom Racecourse). We also have a thriving youth ministry which meets during the week.

Let us know you're coming
Ready to check out Crown Family Church in person? We can't wait to meet you. Simply fill out the form below and we'll make sure to give you the VIP treatment on your visit.
"I was a little anxious attending Crown Family Church for the first time. But as soon as I walked through the door it felt like home."
Kylie Jewson